Here's what I want to talk to you about today, superstar:
​
It's that men are not better business leaders than we women are; they are not smarter, nor more efficient. They are just RICHER, and there are more of them.
​
Case in point: ADAM NEUMANN. Now, I don't love tarnishing the brand of a fellow Israeli national, but he is so awful, I am happy to.
​
Adam Neumann is not smarter than you. He's, at most generous interpretation, an unethical, unchecked egomaniac.
​
If you think he's the only person in the world who's thought of WeWork, that's 100% off. Which we also know, in light of other mega-watt co-working space brands. In fact, I am willing to bet that thousands of women thought of that idea before he did. But my hunch is that if so, investors told them… NO.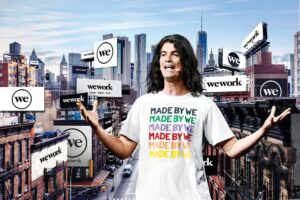 ​WHY? Because of bias, that's why. Instead, Softbank gave an inconscionable narcissist with zero proof of concept or social proof billions of dollars, of which he lost tens of billions (roughly $40 billion of the $47 billion valuation). And then, they gave him an astonishing exit package, estimated to be worth over $1 billion, withdrew WeWork's IPO and screwed over employees who, according to an article in Vanity Fair, "were hoping valuable stock shares would offset long hours and alarming office culture."
​
And did his career end after this? NO. By some lunatic twist, major VCs just gave him more money. He raised a stunning $350 million from Andreessen Horowitz for a yet-to-launch real estate company called Flow. The investment gave Neumann's latest venture a more than $1 billion valuation. According to TechCrunch, "that investment marked the largest check Andreessen Horowitz had ever written for a single company and its second bet on a Neumann startup."
​
WHAT THE ??….
​
Anyway, good for him, I guess (until karma catches up). In the meantime, the point I want to make is that women are in between such a rock and a hard place.
​
First of all, because most of them don't even raise funds for our business. Second, because – many times as a result of not doing a raise – we don't have the investment or the runway to take risks.
​
And then, on top of that, we have way less room to fail than Adam Neumann (though, to be honest, that's most of us).
​
If this were a status quo that could not be altered, I would be disheartened, but I am NOT. Because I think we are on the precipice of something BIG. In 2023, we are 51% of the population. We are also half of the labor force and 85% of consumer buying power. This means a seismic shift is ahead. As a lifelong feminist with a deep core belief in equal access, rights and pay for all, I am dedicated to this growth not only in coaching YOU, but in demonstrating our power through the example of my own company.
​
And though ENTHUSIASM ACADEMY registration is closed, I have a couple of private executive coaching spots available for people who are super serious about their growth this year. If this is you, schedule a consultation with us here.
​
See you AT THE TOP, and Happy International Women's Day!
​
Coach K