In December 2021, I will hit a major milestone: 5 years in business, 550 private and group coaching clients!
As you can imagine, this has been quite a ride and a privilege beyond anything that could be expressed in words. What I can convey to you, however, is this: COACHING WORKS. It has done marvels for me and for my clients and can do the same for you, too.
By way of early celebration, I have some wonderful and inspiring coaching success stories to share with you. From those who landed the role of CEO to the high-stakes promotion at their dream brand, to companies who exited at the valuation of their dreams, to founders who blew through their raise target – I have had the honor of bearing witness to astounding results.
Just in the past couple of weeks…
– One client just closed a 100 million dollar raise – the journey was long, but he did it!! Another secured a $500k investment check right out the gate in his raise.
– One client, previously terrified of public speaking, delivered a presentation to a standing ovation. She is elated and feels empowered to do more.
– One client landed a dream, high-stakes C-level position at his dream company, Nike.
– And two other clients have taken their thought leadership businesses to new heights with virtual summits that just launched.
These success stories and the testimonials I am about to share are not merely about people who changed or up-leveled their careers; they are about the transformation of inner lives. Right from the first success story – you will read about people who were done with the relentless hustle and traded it in for deep work that lead to purpose and peace. I hope you can relate to them, and that when you are ready, you will reach out to find out more.
1. HOOMAN YAZHARI, CEO, MOBILITY CAPITAL
Having worked with me on and off for four years now, Hooman Yazhari, a seasoned CEO, founder, and board member, has hired me as coach to his billion-dollar teams, but also as a coach and sounding board for his own new company – the one to watch – MOBILITY CAPITAL. He is living proof that ongoing coaching, support, and accountability go the distance when it comes to ensuring an optimal mindset. What Hooman knows today is this: elite leaders cannot afford to get "on the court" feeling "off." That's what this work is about, as he eloquently states.
Watch Hooman's Testimonial here: https://www.youtube.com/watch?v=P7Jv4Me1KNY&t=15s

2. TRACY HOLLAND, SERIAL ENTREPRENEUR, FOUNDER: POTENTIAL TO POWERHOUSE
When Tracy first began working with me, she was emerging from her first ten years of being an entrepreneur, having already built a very successful company (Hatch Beauty), established her family, and conquered what many might consider the summit. From the outside, everyone thought her life looked amazing. But on the inside, she was struggling to find real joy and happiness. We worked together on recalibration. Instead of working externally (towards goals), we used my defined method to work internally to "untangle the knots." That shift produced the biggest pivot in Tracy's life and career to date. She has since launched a new platform, Potential to Powerhouse, cementing the vision for her next level. By her own account, she also got what she came for, waking up eager and tackling the days with more enthusiasm than ever before and less stress than ever before.
Watch Tracy's Testimonial: https://www.youtube.com/watch?v=sT7CQ-tNmoY&t=3s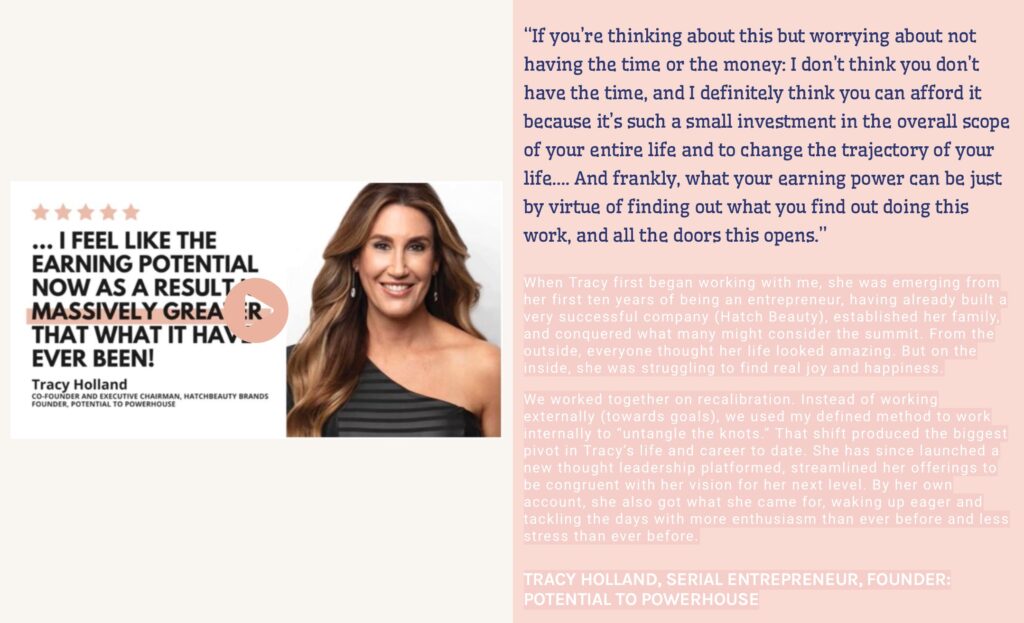 3. DAVID FUDGE, FOUNDER, APLOS
Fun fact: David Fudge was once my business partner. Today, he is the founder of Aplos – the non-alcoholic beverage that will blow up the spirits industry. Working together has not just been a "coming full circle," it has in David's words, "been the best investment of his career." Aplos is blasting through its goals in a systemic, sustainable, and united way. Watch out for these guys – the work David has done is setting them up for billion-dollar brand status.
Watch David's Testimonial: https://www.youtube.com/watch?v=Y8T1Xbi5wQ0&t=3s
4. EVA YAZHARI, FOUNDER, BEYOND CAPITAL FUND and Author: The Good Your Money Can Do
Eva joined as a seasoned superstar who was simply, in her words, "ready to take things to the next level." She'd been an investor for ten years, hailing from a lucrative career on Wall Street. But she felt "stuck," was looking for places and inspiration to grow, and had come up short – or in what she calls a "BTS cycle": Busy Tired Stressed. There can be no growth or inspiration from there. Working with me, Eva took the time to dig deep and untie the knots that were keeping her from truly going big. She has learned how to leverage her time. How to make the right decision from a place of calm and knowing (a "hell yes!") How to establish her profile as a thought leader. And how to command an expanded portfolio that actually reflects her values and adds meaning to her life.
Watch Eva's Testimonial: https://www.youtube.com/watch?v=JPsY-f1lpHU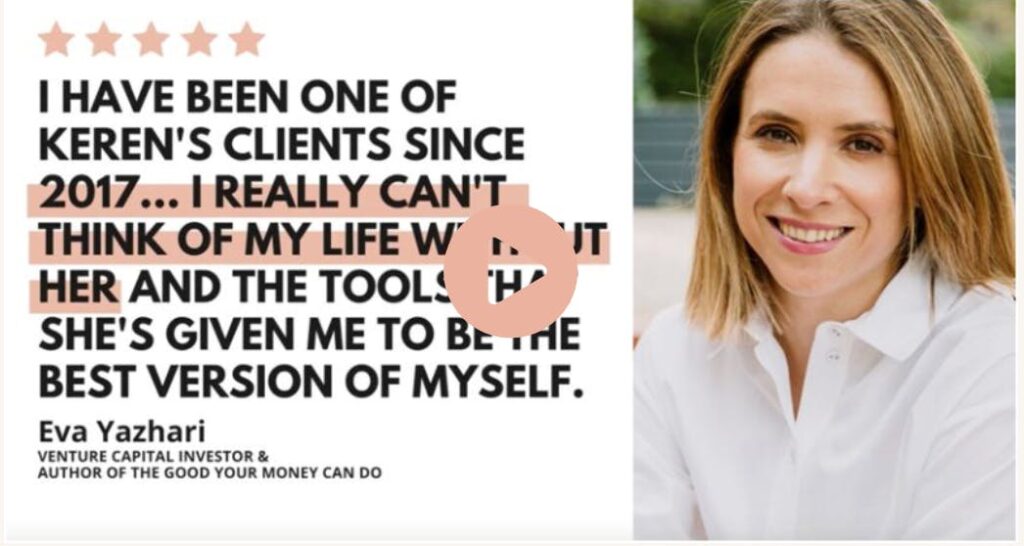 5. LARRY PERKINS, CEO, SIERRA CONSTELLATION PARTNERS
Every now and again, you meet a co-creator in coaching. That was Larry Perkins. Larry, an unstoppable dynamo (there should be a hurricane named after him) was seeking clarity and focus for the growth of his already industry-dominating business – and that he got, in addition to opening up to thought leadership which saw him launch his incredibly successful book, Don't Be A Stranger. In the book, Larry says of coaching what may be the most straight-to-the-point case to be made: it's just what superstars do. No professional athlete forgoes coaching. No superstar determined to be at the top of their game should, either.

I hope these case studies have inspired you and that if you've been thinking about coaching, they have helped you find what you are looking for. Looking forward to meeting you in a breakthrough consultation soon. Spots are very limited, so I have already opened the wait list for the next round of coaching that starts this October (the final coaching series for the year is open.
Looking forward to YOUR breakthrough!