What you can learn from the world's most lovable coach: Ted Lasso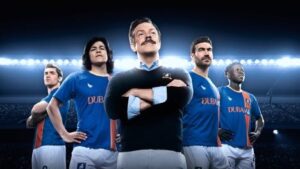 Ted Lasso is the best show on TV right now (sorry, White Lotus fans), with season 2 of the series streaming now on Apple +. At least until The Crown and Mrs Maisel return to my life, I am so glad I have TED: the warmest, most lovable TV coach …possibly ever. Ted Lasso, played by Jason Sudeikis, is a Division 2 Collegiate American football Coach from Kansas City who is surprisingly recruited to be the Head Coach (Manager) of the struggling English Premiership football (soccer) club A.F.C. Richmond in London. It's a classic "fish out of water tale at first glance – two Southern accents (Lasso and his assistant coach) navigating past their culture shock. But for me, this show carries profound lessons in life and leadership. Though he may not be a well-versed soccer savant, Lasso makes up for a lack of knowledge with an over-abundance of enthusiasm. For this week's newsletter, I thought I'd share the top 5 lessons from this uplifting show:
1. DO NOT TAKE THINGS PERSONALLY
On the show, due to his complete lack of experience upon arrival in London, Lasso's credibility and coaching methods are subject to immediate and ongoing scrutiny, judgment and even ridicule by the press and from the British public. Even his own players show Lasso disdain and disregard. Knowing, however, that time and unity will overcome this, Lasso stays grounded in who he is and in his tried-and-true methods, taking none of it personally. In the absence of the "noise," he is able to rise above.
2. IN TEAMS, EVERYONE MATTERS EQUALLY
Right from the start of the show, the most touching relationship perhaps is the one Lasso forges with the team's overlooked "kit man" Nathan. Coach Lasso goes further, empowering his kit man to perform tasks beyond his role. Likewise, he also encourages each player to give their input on game tactics, which creates a sense of ownership, leading to more engagement and motivation. With this clear disregard for rank at the ground level and heart for unity – Lasso strives to bridge the gaps and make sure everyone has a seat at the table. Nothing matters more in leadership than the alignment of your team – and this flat hierarchy-oriented, empowering approach, is the way to it.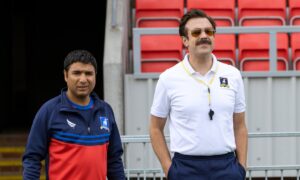 3. NOTHING AND NOBODY IS BIGGER THAN THE TEAM
I've been coaching teams for a while and have found two things to be a frequent occurrence: A. Coaching a team of high performers many times means managing large egos and resolving power conflicts. B. Unresolved conflicts lead to "silo'd" behavior – where departments and people put themselves and their goals ABOVE the global bottom line. This does not work in ANY realm and is a sticking point that recurs in the show. Lasso communicates his message that the team comes first, no matter your talent, and does so again and again.
4. OPTIMISM IS INFECTIOUS
Ever heard the phrase: "a rising tide lifts all boats?" Well, it is my most fervent belief. If YOU can be genuinely aligned with yourself, fully charged and positively focused, others around you may find you annoying at first …but after a while, THEY WILL JOIN YOU. My favorite thing about the series is this very optimism – the positivity and can-do attitude demonstrated by Ted Lasso – eternal optimist. Maybe you will also find his over the top enthusiasm and positivity a bit "much" at first but trust me – you're gonna love him and the ripple effect of happiness and success he creates around him.
5. YOU MUST BELIEVE IN YOUR VICTORY
The number one enemy on the path to whatever you want is killing it – that desire – with self-doubt. It is impossible for us to achieve our desires if we don't believe we are either capable or deserving of achieving them. The most powerful message, therefore, in this series is that we must believe to achieve and remember to have as much fun and be as courageous and trusting as possible on the journey.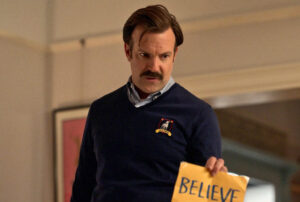 That's the message, and I hope this newsletter has inspired you. It's dedicated to my new friend Ellen, who also loves the show and who is implementing each and every one of these principles with her team as we speak. Which will YOU implement?
If you're up for more motivation, this week:
1. I am giving my best selling talk, "Detox Your Mindset" in the HEAL Summit by Prima Foodie. Get your ticket now and do not miss a stellar lineup that includes hot shot wellness and mindset superstars like my pals, Hitha Palepu and Elena Brower, coaches Jen Swartley and Margot Janks, and the incredible Gua Sha demo you do NOT want to miss by Britta Plug.
Here is the link and a special 20% off discount code so you can enjoy this bounty:Link: https://tinyurl.com/healwithprimafoodie

Code: primafriend
2. I have ONE spot in private executive coaching left. Sign up here for your consultation before doors close again: https://calendly.com/kereneldad
Looking forward to walking further together. See y'all next time.