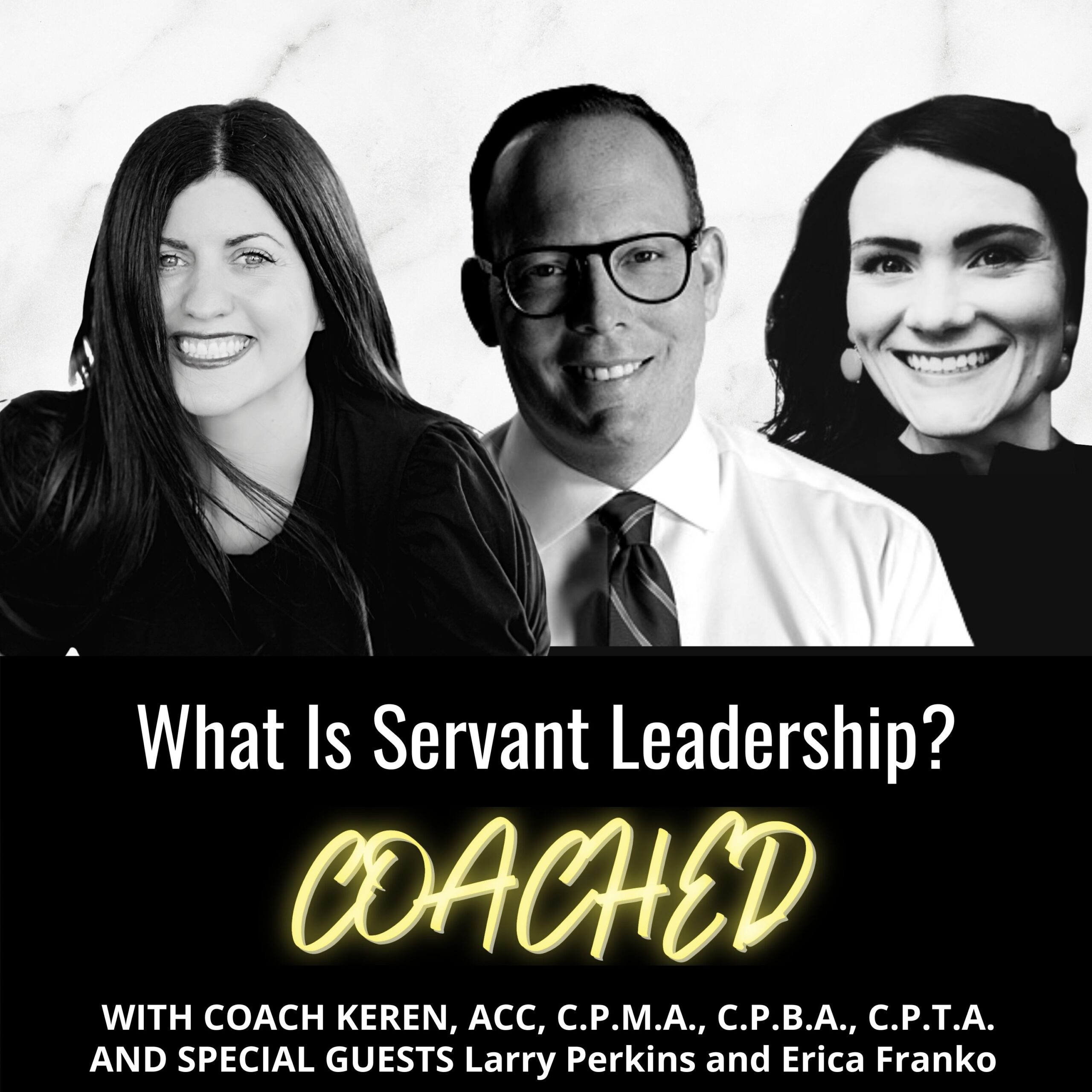 What is Servant Leadership
In this episode of Coached with Keren, Keren sits down with two leaders, Erica Franko (Senior Manager, Accenture) and Larry Perkins (CEO, SierraConstellation Partners), and talks about the ground-breaking concept of Servant Leadership.
Servant leadership is a leadership philosophy in which the goal of the leader is to serve. This is different from traditional leadership where the leader's main focus is the thriving of their company or organizations. A servant leader shares power puts the needs of the employees first and helps people develop and perform as highly as possible.
The creation of a cohesive, positive team comes from leadership that's collaborative and trusting – and so, depends on understanding this philosophy. Keren discusses these aspects with experts Larry Perkins and Erica Franko, and how they cultivate these leadership qualities and positive relationships in their own aspects of work, to make this concept practical and actionable for YOU.
In This Episode:
[01:25] Introducing Servant Leadership and how it creates cohesive positive teams. 

[02:10] The danger of displaying dominant, aggressive behavior as your leadership style and how that will affect your working relationships.

[4:44] Introduction of guest panelists, Larry Perkins and Erica Franko, and their backgrounds. 

[11:00] How to begin: get some insight into your behavior as you work with others in your business.

[18:36] The importance of taking the time to recharge your batteries and evaluate how you're doing in the process of becoming a better leader.

[25:24] Larry's book, Don't Be a Stranger is about networking. It is also about Servant Leadership, and we explore the connection here between the two. 

[29:04] The key to Servant Leadership: shifting your focus to others by asking how you may serve them and how you can make yourself useful will be a game-changer. 

[32:35] How you can lean into your strengths and harness those leadership superpowers today. 
Key Takeaways:
Leadership is about clarity, connection, and service beyond yourself. 

Servant leadership is about putting the company and organization above yourself for the greater good of the people and all involved. 

It's not always about what you are producing or achieving in your business, but how you are also impacting the people around you.

Being a servant leader helps you grow, evolve, and adapt to the leadership types that a business or people need. 

Having self-awareness will allow you to step into the role of a true servant leader as things change. 

Letting go of perfection is a big step in knowing that wherever you are and whatever state you're in you can still lead and inspire people.
Meet Larry Perkins & Erika Franko:
Larry Perkins, Chief Executive Officer of SierraConstellation Partners, has more than 18 years of management consulting and advisory experience with companies undergoing transition. Larry has enhanced business performance for numerous companies on projects ranging from interim management, profit improvement and working capital management to strategic planning and transaction execution.
Prior to founding SCP, Larry was a senior managing director and regional leader of a national consulting firm where he was responsible for business development, marketing, staffing, and general management of the firm's western region. Larry joined the firm in 2010 when it acquired El Molino Advisors, a company he founded in January, 2007 and led as the CEO.
Larry began his career in the strategic consulting group of Arthur Andersen after graduating from the University of Southern California Marshall School of Business. He is currently on the board of several non-profits, and two corporate boards, and is a member of the Young Presidents Organization.
Larry is the author of the Amazon bestseller, Don't Be A Stranger, where he explores the secrets of strategic relationship building. He provides personal advice on how to create luck in business by offering techniques that can ultimately help readers develop their own enriching community.
Erica Franko is an expert in Healthcare, Technology Implementation, and Growth Strategy. She is a leader in the healthcare provider space with experience focused on customer (patient experience), M&A integration, healthcare technology and implementation, and broad growth strategy. Her thesis is that we have evolved the way that we deliver healthcare, but not the way that we care for patients. Erica is an innovative and strategic ally that brings market and industry expertise to every challenge.
Resources: SierraConstellation Partners