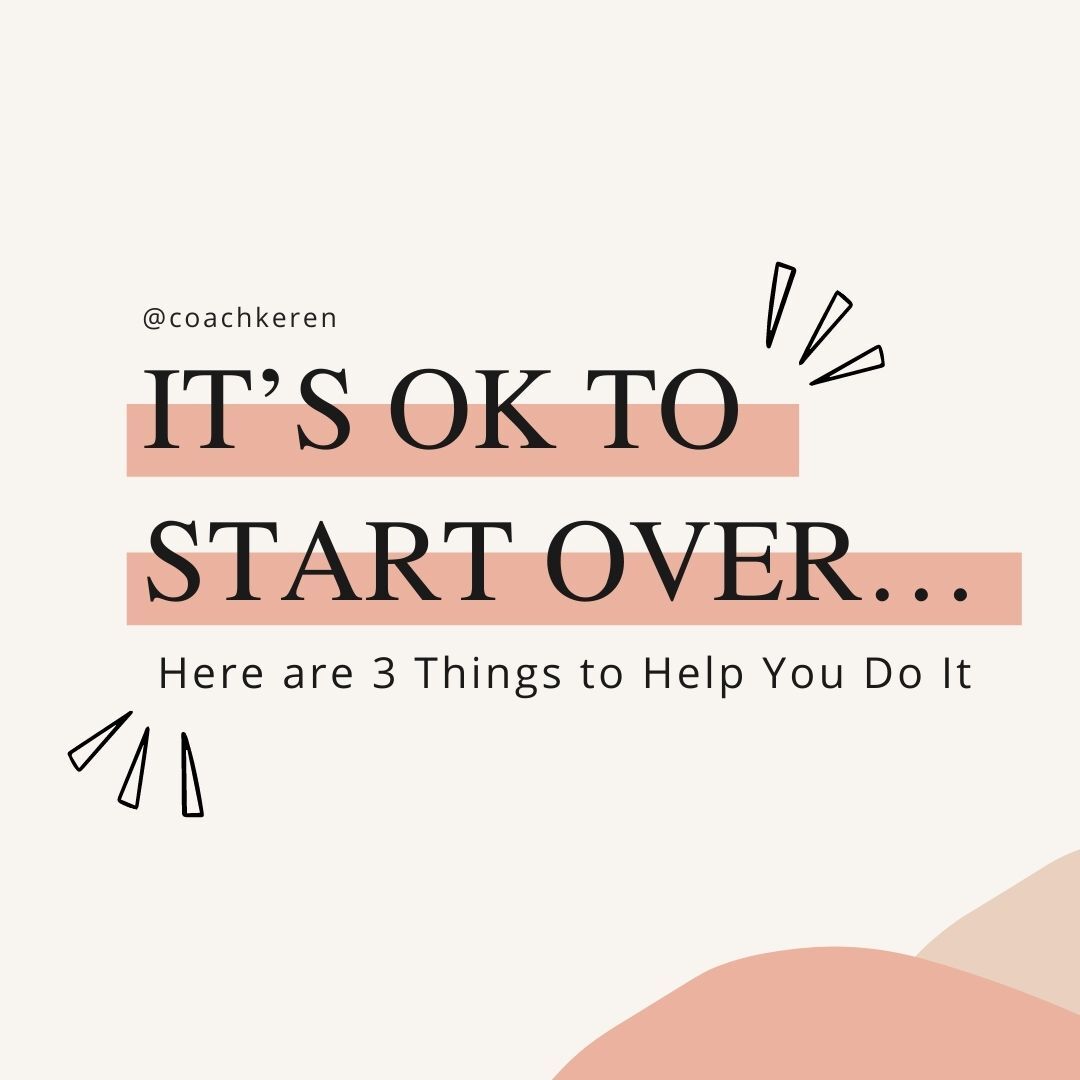 It's OK to Start Over…Here are 3 Things to Help You Do It
Maybe you've just gotten out of a long-term relationship.
You've changed yourself so much trying to be your ex's perfect partner that you don't know who you are anymore. Now, you want to be 'you' again.
Maybe you're done with a toxic situation at work, you've quit and you're off to think about what you want to do next. You have no job and no clue where to start — only a blurry picture in your mind of who you want to be. Or maybe you've lived your entire life trying to make everyone else happy, and now you're sick and tired of giving your power away.
It's time to begin again if this is you. Time to live life on your own terms.
Welcome to what David Brooks calls: The Second Mountain – the second coming most of us experience in life, if we are lucky, after we begin again and if we decide to relinquish the ego, stop living in pursuit of "stuff" and start living to know who we are and to give ourselves away in service of others. He makes a compelling argument, so to start this week's "3 things" email – which as you may have surmised, is dedicated to starting over, I recommend his latest (and best) book:
1. The Second Mountain, by David Brooks. Moving and incisive, this book is meant to help us all lead more meaningful lives. Which to me seems the only reason to start over. I hope you'll pick it up.
2. As you may know, I started over just a few years ago (I just spoke about it on Yasmin Nouri's podcast, "Behind Her Empire"). I had no job, no semblance of a career left, had left my horrible marriage, my cats had just died, and all my stuff was burned in a fire. That's when my inner journey began, and what I truly believe gave me back my own life. On this journey, I have met others who lost seemingly everything too and rose again. One such person is Kristy Gayton – who just came on the Coached podcast to help everyone out there begin again. She also gives you a critical understanding of why you think it's so scary, but why it ultimately isn't. I hope you will check it out here.
​
​
3. A great way to "restart?" Look at your habits. In that podcast episode with Kristy (above), we both spoke a lot about beginning by having a look at habits that no longer serve you. I'd start there if I were you. Start by buying a journal and beginning to log your thoughts and creating to-do lists that help you put one foot in front of the other each day. It is also wise to look at your physical wellness, which is a great way to hit "reset" as this is often where we can see the fastest external transformation. To help you optimize your wellness habits, today's 3rd "starting over" recommendation is the upcoming HEAL summit, hosted by my friends at Prima Foodie: https://www.primafoodie.com. Coming August 25th, Prima Foodie is bringing together brilliant thought leaders in the worlds of nutrition, food, and wellness-centered around healing from the inside out. Yes, I'll be speaking, too. I hope you'll join us on this full-day "detox."
​
I know the road to "the next phase" is not instantaneous.
Mine wasn't, either – and none of the above, from books to summits – will not be conclusive. You have to take all the steps yourself.
But ANY step is a great start. If you would like to talk, I am still doing consults this week – which you can book here: https://calendly.com/kereneldad​
And here's what I can tell you: while it was not easy to start over, I did it and here I am today. If I could see, back then, the glory of the blessings that were coming, I would have kissed every blow that came against me. You may not see it now, but I believe with all my heart that you're going to be OK.
Wishing you the best ascent.