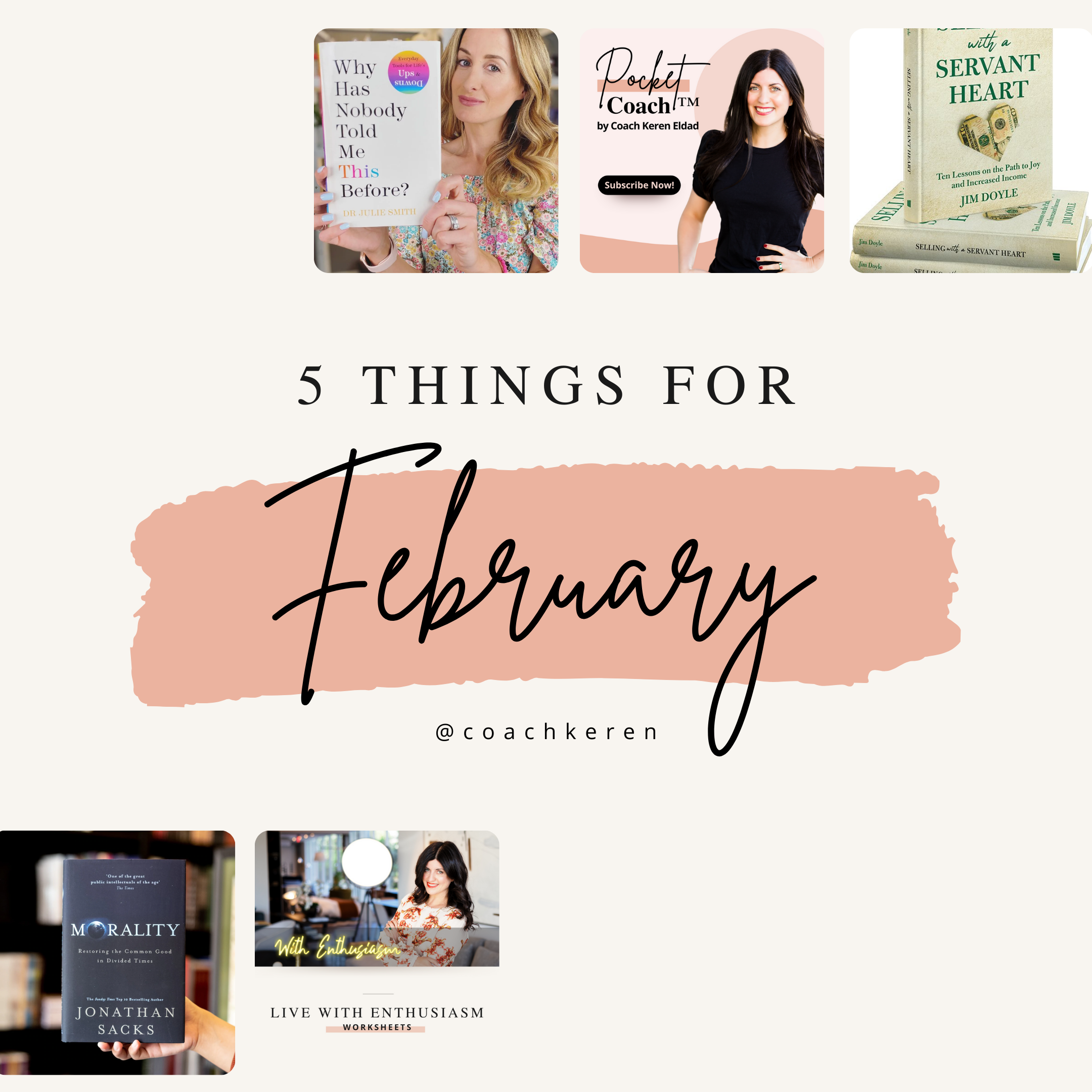 Five Things for February
Hello, FEBRUARY: the time of the year right after January, when resolutions starts to wane off. Life has kicked back into routine after the holidays, and it's easy to forget that you made a decision on Jan 1 to level up, simply because you are already overwhelmed by calendars, commitments, and the chaos of these times.
But that's not what you are about. So my gift to you this week is a collection of things to read, watch, or listen to to help you steal away from the chaos for a few minutes and do something that restores your soul and reignites that inspiration and determination you have to get to those goals.
I hope these links inspire you, give you a new perspective, and refresh your soul during this busy season.
Enjoy!
1. For Fear of Failure and Other Common Issues Affecting Your Effectiveness and Joy
Read: Dr. Julie Smith's new book, "Why Has Nobody Told Me This Before?" – it's a book of coping techniques to emotions we all experience, such as anxiety, the fear of failure, and even in a moment of mourning. I will keep this one handy and by my side.
2. For Love
This month, in honor of Valentine's Day, my Pocket Coach service is focused on soulmate love messages this month to inspire you to date with great enthusiasm. These are the very messages I created for myself, back when I was ready to ditch the torture of "McRomances" and the cycle of dating people who were simply not a match for me. And that is what led me to Ryan, the love of my life. I hope you will check out Pocket Coach for these and more daily texts to keep you inspired, motivated and empowered each and every day. Subscribe now: https://volv.ai/kereneldad/pocketcoach
3. For Sales Superstardom
Read: "Selling with A Servant Heart," by Jim Doyle. I rarely endorse sales books or podcasts, mostly because I disagree with the philosophies that espouse persuasion. This philosophy, the one created by sales trainer and master Jim Doyle – espouses the understandings that align with mine.
4. For Finding Your Center in These Insane Time
Read: "Morality," by Rabbi Jonathan Sacks. Yes – his epic final tome before he passed away in 2020 was on my top books of 2021 video. You know, for years I have found that one of the best things I have cultivated for my mental health – to assuage and combat anxiety and worry, as well as insecurity and self-doubt, has been service to others and thinking of others. Because I find this so effective, I am constantly asking: How do I get from thinking about ME to thinking about WE?
THIS book has the answers, and also lays out the case for why we must – why we are WIRED – to think about we, and how society will benefit from collective devotion to others. This is a heavier read, but for those who enjoy such books – it is a read with few equals.
5. To Build a Successful Thought Leadership-Focused Personal Brand
Think about Inspire with Enthusiasm. We just announced the new group launching on 2.22.22 privately to advanced clients. If I have missed you and you would love to join this group, check it out now while there is still time to apply: https://join.inspirewithenthusiasm.com​
​
This is going to be a good month. Stay focused, and if you need a consult -you can find me right here.
​
To your breakthrough year,
​
Coach Keren
​
PS: are you ready for YOUR breakthrough, for some clarity and actionable next steps? Schedule your personal consultation today.